Today's FFEEF was a bit delayed as I caught up on all of my lost sleep. A 5 hour nap tends to cut into blogging time. I must admit there were no guiding principles to today's finds. I simply gathered together clothes that I think are beautiful.
1910s
I've always wanted a skirt with interesting fabric on the inverted panels since I saw one in a magazine. There's something surprising and refreshing about the whole look. Since the skirt is really the show here, I'd pair it with a soft gray cashmere sweater and some ballet flats and head off to work. It's a simple yet elegant look.
Blue linen skirt with gray and white stripes on inverted panels. Measurements: 34" waist, 38" hips. Available
at Woodland Farms Antiques
for $145.
1920s
I know it's a bit confusing to guess what this is by the picture above, but it's the only one I could nab of it. It's actually a gorgeous shawl and you can click the link below for a full view of it. Some places play movies in the park during the summer. If I lived some place cooler than Phoenix, I'd wrap this around myself while taking in a good classic movie. I like versatility though, so I'd also convert this to a wrap skirt. It might take some finagling, but simply wrap this around, pin it with something equally pretty, grab a tank top, find some boots with high heels (height dependent on length of the shawl's fringe) and go. I love this idea so much that I'm wondering why I'm sitting around in pajamas instead of wearing it.
Printed silk jacquard shawl with fringe (click the link for full view). Measurements: 49" square. Available
at Contentment Farm
for $395.
1930s
I'm sure I'll be blogging next week about my love of ruffles. Until then you can get a glimpse of my obsession with this gorgeous top. I love how feminine and elegant it is. Lately high-waisted pants and skirts are making a comeback which works marvelously with this top. I'd choose some wide legged trousers or a pencil skirt to tuck this blouse into. The ruffles would end just before the skirt or pants began. Now how's that for a pulled together look?
Ivory chiffon ruffle front blouse. Measurements: 36" bust, 24" waist. Available at Contentment Farm for $95.
1940s
I know summer is ending for most of you in the US, but it's still in full swing in the southwest. It's hard for me to think sweaters quite yet, so it's no wonder I'm still coveting gorgeous summery dresses. This one has such amazing color and really it wouldn't take much thoughtful wardrobe planning. With accents of black and white there must be plenty of accessories already in your closet to use with this. Buy it now and take it on vacation as you head south to escape the winter chill.
Cotton batiste dress with applique accents. Measurements: 38-40" bust, 32" waist. Available
at Ballyhoo Vintage
for $79.
1950s
Oh skirt how I love you! Seriously how often do you see skirts in this pretty of a color? You could pair it with a neutral top or sweater in gray or taupe, or you could liven it up even more with something wild in apple green. Personally I'd put it with a white corset cover or camisole like I featured last week and add a cardigan for good measure. See I can think fall/winter.
Coral pink Evan Picone pencil skirt. Measurements: 29" Waist, 37" hips. Available
at etsy seller Green Eden Vintage
for $37.
1960s
As winter approaches you may want to start thinking about gloves. I can clearly remember the days back east when getting in the car and putting your hands on the steering wheel meant cold hands, not burnt ones like out here. Protect your fingers and look stylish at the same time.
Dark blue Italian leather gloves with lambswool knit lining. Size: 7 1/4. Available
at Ballyhoo Vintage
for $22.
1970s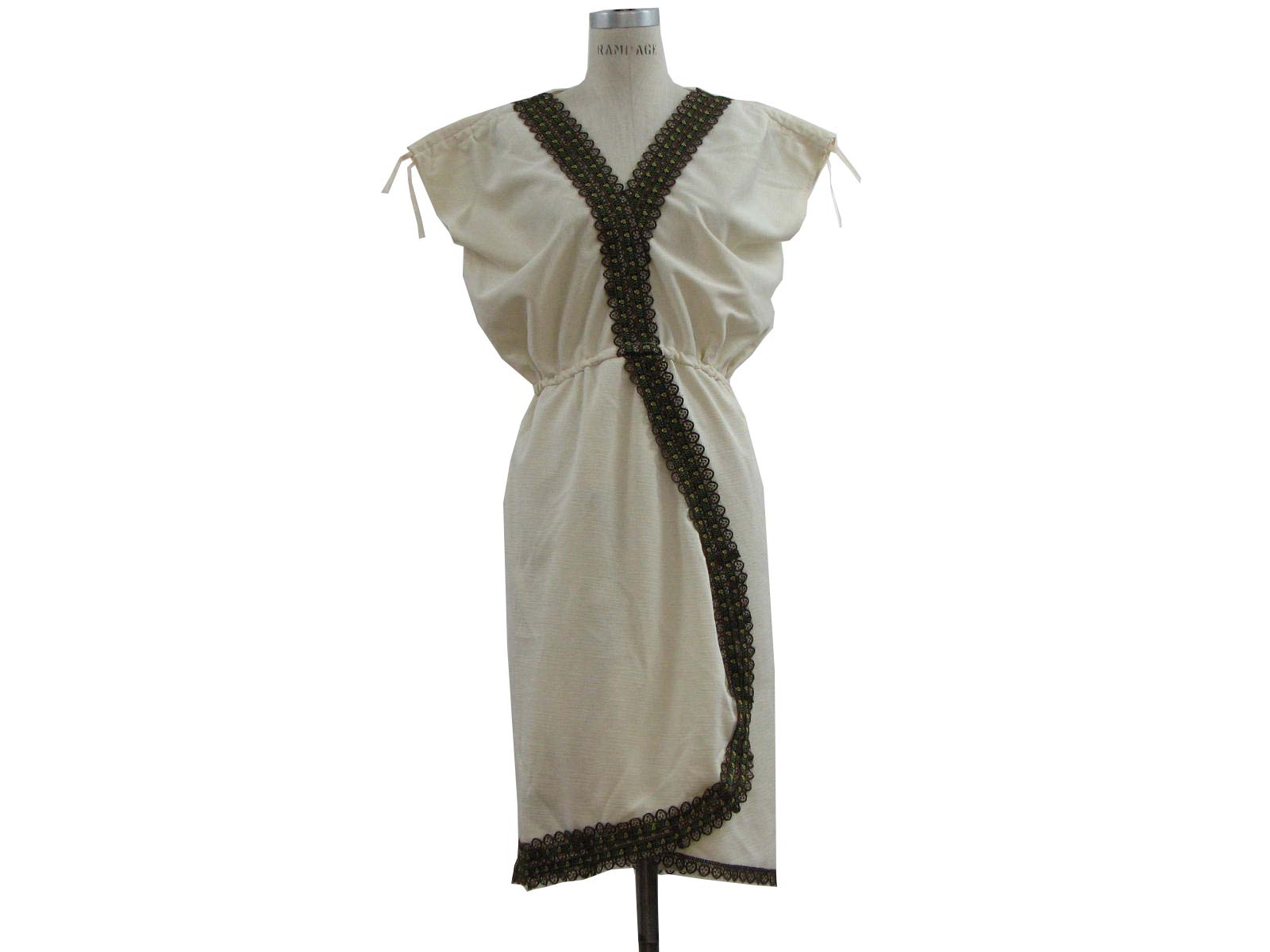 I feel like this dress could go anywhere that there's a party. Grabbing a martini with friends, heading to Vegas to play the slots, going on a tropical trip. Just add a few coordinated accessories and look super sexy.
Yellow polyester knit dress with banded floral trim. Measurements: 42-32-38. Available
at Rusty Zipper
for $34.
1980s
I confess, I have a shoe problem. I have so many shoes that every once in awhile I come across a pair I'd forgotten I even had. In one day I bought 8 pairs. My mother seems to think I should follow the declutter rule of buy a pair and remove a pair. I don't know who she thinks she's talking to, but if it's me she clearly doesn't understand the need to have shoes in every color and shape for any occasion. These shoes are clearly party shoes and they have a lot of life left in them. I think they need to go dancing. I'm sure you'll agree.
Bronze silk shoes with pastel rhinestones. Size: 9 1/2N. Available
at Vintage Martini
for $135.